Leslie Bixler Music for Kids
"I've known gifted people who were able to think like children. Walt Disney and Fred Rogers come to mind. They seemed to know instinctively what makes kids tick and what they'd like. Leslie Bixler has that kind of antenna. She teaches kids and works with them daily. But Leslie has gone Walt and Fred one better. As a talented song writer, she ASKED her young students what they'd like to hear songs about and proceeded to write children's songs on those very subjects. I'm now hearing those catchy refrains in the market ,the mall and anyplace kids go. It seems once they hear it,they can't stop singing.If that's not the criterion for a hit, I don't know what is."
— Dick Van Dyke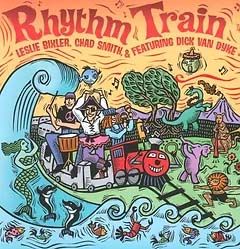 "RHYTHM TRAIN" with Chad Smith and Dick Van Dyke
"The making of The Train was the most natural and organic musical experience I've ever had. Leslie had a vision, and we just had so much fun coming up with this magical ride. it was just the 3 of us being ourselves and getting caught up in the excitement of moment.  Our hope is kids of all ages (grown ups) will enjoy the ride as much as we did making it..All aboard!!!" 
 — Chad Smith (Drummer for Red Hot Chili Peppers and co-conspirator on "Rhythm Train") 
"I love Mr Van Dyke he's my hero!  What he's done with Chad and Leslie is fantastic!  The Rhythm Train is the coolest CD to hit our family's collection." 
— Stone Gossard, Pearl Jam Guitarist and father of one
"MOON FOOD" with Dick Van Dyke
Winner of Parent's Choice Award
"This is music the entire family can get into! It's like a magical combination of real music and fantasy which always puts a smile on my kids' faces."
 — Julia Roberts, actor and mom of three